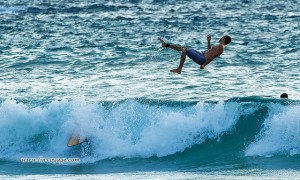 If you might not know already I LOVE to surf. I surf around 3 times a week and can not get enough. Its very hard to describe how addicting it is so just trust me when I say its addicting. If you wanna be a good surfer there are a few things you need to know. Firstly, when you surf you will get hurt. I have cut my head on my fines numerous times and even know people who had to get stitches. Whats most important is not how good you are but that when you have a bad day or you get hurt you keep surfing. This is the only way to get better. As a wise woman once said "The bad days only make the good day so much better."
Besides a good attitude, to be a good surfer you must know the rules. These rules are that you say hi to people when you paddle to the line up and that you don't drop in on people. Dropping in on people is when someone is already surfing the wave and you paddle and stand up in front of them so they loose there wave.
Another important rule is to relax and keep calm when you wipe out. When you take your last breath before going under you want to keep your heart beating as slow as possible. When your heart beats fast it consumes more oxygen therefore forcing you to go up sooner than you want to. Thank you for reading and if you have the chance I hope you try to go surf.